Dosing & administration for LAGEVRIO™ (molnupiravir)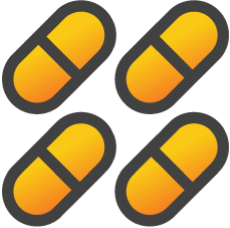 800 mg (or four 200 mg LAGEVRIO capsules)
Capsule images for illustrative purposes only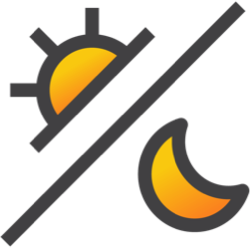 Taken orally every 12 hours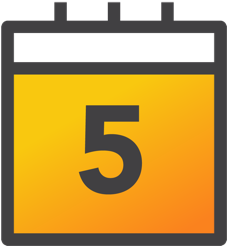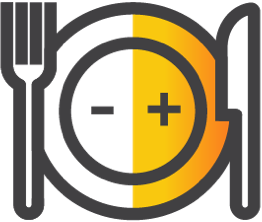 Completion of the full 5-day treatment course and continued isolation in accordance with public health recommendations are important to maximize viral clearance and minimize transmission of SARS-CoV-2.
LAGEVRIO is not authorized for use for longer than 5 consecutive days because the safety and efficacy have not been established.1
If your patient requires administration via Nasogastric (NG) or Orogastric (OG) Tube (12F or Larger), please consult the healthcare provider factsheet for additional administration instructions.
What should patients do if they miss a dose?1
If the patient misses a dose of LAGEVRIO within 10 hours of the time it is usually taken, the patient should take it as soon as possible and resume the normal dosing schedule. If the patient misses a dose by more than 10 hours, the patient should not take the missed dose and instead take the next dose at the regularly scheduled time. The patient should not double the dose to make up for a missed dose.
Should a patient require hospitalization after starting treatment with LAGEVRIO, the patient may complete the full 5 day treatment course per the healthcare provider's discretion.
Are dosage adjustments recommended in specific populations?1
No dosage adjustment is recommended based on age, or in patients with any degree of renal or hepatic impairment, as renal and hepatic elimination are not major routes of NHC elimination. While the PK of NHC has not been evaluated in patients with eGFR less than 30 mL/min/1.73m2 or on dialysis, severe renal impairment, and end-stage renal disease (ESRD) are not expected to have a significant effect on NHC exposure.
When should LAGEVRIO be administered?1
LAGEVRIO should be administered as soon as possible after a diagnosis of COVID-19 has been made, and within 5 days of symptom onset. See the "Emergency Use Authorization" (1) and "Clinical Studies" (14) sections in the Fact Sheet for Healthcare Providers to learn more.
How should LAGEVRIO be stored?1
Store LAGEVRIO

capsules at
20° to 25°C (68° to 77°F)
Help your patients understand how to take LAGEVRIO
COVID-19, coronavirus disease 2019; EUA, emergency use authorization; PK, pharmacokinetics; NHC, N4-hydroxycytidine; eGFR, estimated glomerular filtration rate; SARS-CoV-2, severe acute respiratory syndrome coronavirus 2.
Reference: 1. Fact sheet for healthcare providers: emergency use authorization for LAGEVRIO™ (molnupiravir). Merck & Co., Inc. 2023.